He nicknamed himself 'The Genetic Freak'....
yeah, genetics, if you say so Scott.

Not an aspirational figure.
This week's blog reading reading music is
Four Simple Words by Frank Turner
because who doesn't enjoy lust, love and a smattering of romance? It's virtually spring after all. Also, I'm no good at dancing.
Been in the gym ever day since my last post, done a couple or weight lifting sessions and lots of boxing. I forget how much I enjoy weights as I've not done it in a while (I was doing one session a week with Kat last year) but it's so satisfying. I can lift a 110kg deadlift for a set of 5 or 6 reps at the moment which is about how much I weigh myself. My best last year was 140kg for 1 rep and I'm looking forward to working back up to that again and then bettering it. I'm getting closer to being able to do a proper pull-up too but it's hard, and it's intimidating, I'm a pretty large person so to do a pull-up means I'm lifting a lot of weight but I'll get there. I'm getting stronger and losing weight so at some point there'll be a crossing point where I'm strong enough to lift myself up. But my body feels a bit different (there's muscles, small ones but they're there), and it feels GOOD to be getting stronger, to be able to swing the big kettle bells around, and squat my bodyweight and smash medicine balls into the floor and lift the heavy thing and put it down again and GRAAAAHHHHHHH!!!!!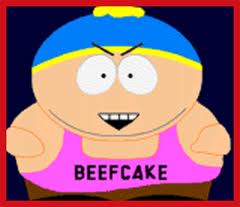 Eric Cartman - An aspirational figure.
Ahem.
But it can't all be testosoriculous weight based stuff. Yoga has been a focus this week. I do my weekly class
Yoga with Olivia
on a Tuesday and I make an effort to do
Downward Dog
and
Pigeon
after every boxing class too to stretch out my back and my hips plus some other stretches that are really uselful. I'm getting old, the
Mr Fantastic
grey is really starting to come in now, and early last year after initial success trying to get healthy I just smashed my body to bits going hard without really understanding what I was doing and ended up not able to exercise, miserable and in worse shape than ever. Since the start of this blog and the 12 Week Transformation program from
12 Rounds
, armed with knowledge, restraint and a bit more common sense about my own body I'm doing more than ever and getting far less aches and pains after working out and I put a lot of that down to the benefits of yoga. I really can't recommend it enough, you don't even need to go to a class it's easy to do at home in front of the laptop for free.
This is Olivia... and this is what she tried to get me to do last week.
I failed.
Some yoga is hard, last week's twists based class was a struggle and left my spine feeling like a piece of cooked spaghetti afterwards (in a good way) but some yoga is very chilled, some is for breathing, some is for strength, some is for flexibility, some is for relaxation, some is for menstrual cramps. Have a look at this Huffington Post article
9 great yoga Youtube channels
, yoga for all styles that you can do at home, just
be aware of your surroundings
I've been watching
American Horror Story
on Netflix, it's well worth a watch if you fancy something creepy and ridiculous with lots of killings. I've seen a loads of not very good horror movies recently that I won't bother recommending but we did do and see
Chappie
which I enjoyed. It's fun, a not-too-distant-future sci-fi starring
Die Antwoord
as Die Antwoord which was weird but effective and uses a lot of their artwork too which gives it a unique look. It suffers from a couple too many sub-plots (fuck off back to church and out of this film Hugh Jackman) but mostly suffers from not being
District 9
, director Neill Blombamp's first film. All a bit 'meh', I hope I have something good to recommend next week.
Thanks for reading, here's a
cat having it's teeth brushed
and another
skateboarding
Follow me on twitter
@savageless
Or
instagram.com/savagelessx
Check out the brand new 12 Rounds Boxing website
here
www.12roundsboxing.co.uk
12 Rounds Facebook page
Twitter
@12_roundsboxing